How to win GOLD
As a Manager in sports, I've now experienced twice from very close by, what it is to win a medal on a very high international sports platform. My first experience was during the Olympic Games of 2008 (Beijing-China) where Churandy Martina won the silver medal on the 200 meters Track & Field. It was very unfortunate though that after the race it seemed that he stepped on the line and then was disqualified. Nevertheless his preparation was optimal, and we knew on forehand how close he would get to an Olympic medal, as we had taken care of all pieces of the puzzle.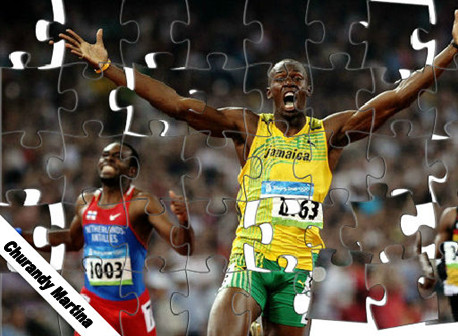 Since the 10th of October 2011, I've been in the Mexican city Guadalajara, where the Pan American Games are being organized. With more than 6000 athletes, this is the second largest multisport event after the Summer Olympic Games. Last Saturday was a very good day for us, as our cyclist Marc de Maar won the golden medal in the road competition.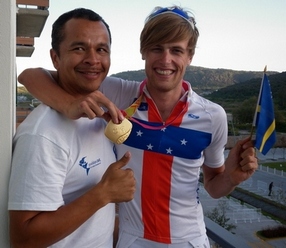 I will not go into details about the race itself, but would like to look at the mental preparation of the athletes. Although the sports Track & Field and Cycling cannot be compared, I can conclude however that both athletes Churandy and Marc showed extreme forms of confidence during the days before their competition. There was something very relaxed, but also decisive in their attitude.
It is difficult to indicate exactly what the most important factor in their mental preparation was, but I think it all comes down in knowing yourself as an athlete.
You just have to know before the competition in what state you are (1) , and in what state you need to be (2) in order to perform at the best level. The third important factor is that as an athlete you need to have certain tools which enable you to get from one state to the other.
I am absolutely sure that majority of athletes don't have the ability to analyze themselves and to be their own mental coach. You can have the best and most expensive team of experts around you, but when the moment is there, you are the only one who can influence yourself. So you better be prepared!
I noticed before the race that Marc isolated himself and just sat in our tent, listening to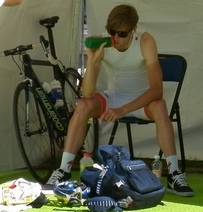 his iPod. I decided then to ask him after the race what he was listening to. During the dinner celebration, Marc told me that before a race he normally listens to rock music, but this time he felt a bit overactive and nervous and therefore decided to listen to Chopin…….
On the highest level of sports the mental preparation is the deciding factor.
But athletes shouldn't wait until they get to that level to start with learning about this. Kids should be taught the different strategies and tools, from an early age, whether they are in sports or not, as it will only benefit them as a person on the long run.
I recently stumbled upon this online program "Mental Toughness Training for Youth Athletes" developed by Craig Sigl, who has more than 30 years experience as a coach.
He knows that nowadays it is not easy to get kids to read a book, and therefore he offers an 8 week online program, with audio and video that the athletes can download on their phones, ipads and ipods.
The training series are specifically designed to boost the athlete's confidence, improve their performance and eliminate any issues that hold them back in their sport.
Athletes need to build their "mental muscle" so they can…
handle big game pressure
bounce back from errors and tough breaks
focus on what's important and block out everything else
believe in themselves no matter what
If you want more information on the program you can just click on this link.
After registration you will receive all information by email, and you will get access to the program for only $12 per week (Total $97). But only after getting the first 10 days for free.
I would appreciate it if you could share your experience with mental preparation for athletes. Is it overrated? Do you think they need it at a young age?
You can leave your contribution in the comment box below.
Like what you read?

If so, please join our sports community who receive exclusive Sport Management tips, and get a FREE COPY of my eBook, "10 Management Lessons to Learn from Sports"! Just enter your name and email below: