Readers Interview: Martin Gleeson (Cricket)
In order to create an online platform to exchange information between our readers, we've started with biweekly interviews with our readers.
They all work in sports, and therefore have experience to share with all of us.
---
Name:        Martin Gleeson
Country:    India
Function within your sport organization: Chief Executive Officer, Sports Education Development India Ltd.  A sports education specialist
Current profession/ job: Level 3 Cricket Coach from Australia
Company profile:Cricket India Academy established three years ago in 2009 has a strong hold today, in the field of sports education. Cricket India Academy came up with this unique concept of offering a cricket education program to budding cricketing talent in a nation which eats, drinks and breathes cricket. The program, currently being run in 16 centres across Mumbai, Pune and Jaipur with over 800 participants, is set to begin its innings in Chennai and Surat very soon.
1. How did you come involved in your sport organization, and what kind of tasks/functions do you have?
I started my professional career in retail as the Manager for Sportsco Northland before entering professional cricket administration in 1999.  I spent almost five years at Cricket Victoria, firstly as Regional Cricket Manager for the Inner East Metro region before earning promotion to Youth Programs Manager.
From Cricket Victoria, I was the East Asia – Pacific Development Officer for the International Cricket Council developing cricket structures, high performance programs and astute governance in countries such as Japan, Indonesia, Papua New Guinea, Fiji, Vanuatu, etc. before being recruited by Cricket Australia as Senior Officer – Coach Education & Training.
Within ten months, I was promoted to Coaching Services Manager managing Cricket Australia's coach education programs, activities and over 10,000 accredited members. After 12 months in this role, I stepped into the newly created role of Coaching Program Manager for Cricket Australia's International Development Program servicing Cricket Australia's agreements abroad.
Having project managed the development of the Cricket Education Program (CEP) in this role, I was recruited in February 2010 by Sports Education Development India Ltd to implement and grow the program across India. Cricket Education Program is a six level curriculum-based sequential cricket development program for 9-14 year old boys and girls.
I am a Cricket Australia accredited Level Three coach with a strong cricket, coaching and teaching background. I am also a faculty member of the Post Graduate Diploma in Sports Management at the International Institute of Sports Management at Jai Hind College in Mumbai.
2. What is the biggest challenge you currently have?
A key challenge of Cricket India Academy is of educating the market on the benefits and qualities of our coaching programs. Sports education is an emerging field so there is some work to do on educating the market of the values and benefits of providing quality based programs, an internationally developed syllabus and trained coaches.
Classroom teachers are trained, accredited and provided with a bench marked curriculum and assessment process. Typically, a sports coach has traditionally very little of these.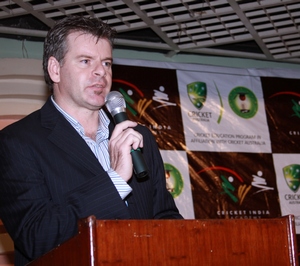 3. People often underestimate being a volunteer working in sports management. What do you think is the most important aspect in sports management for volunteers?
Volunteers provide a massive service and benefit to their field of involvement. The most important characteristic they bring to the organization is passion and their willingness to work and contribute in a selfless manner with the best interests of the participants at heart.
4. Does your sport organization make use of facebook, social media and websites ? Who handles this for you, and how do you use this to interact with your stakeholders (athletes, parents, sponsors etc).
Yes, we are very active in social media through our website (www.cricketindiaacademy.com), facebook, LinkedIn and twitter. These tools provide us with a fantastic and instant way to communicate with our participants, parents and supporters. We also have a blog for our participants to provide their feedback and to contribute content.
Our social media outlets are also a great medium to showcase our events, tournaments and achievements.
http://www.facebook.com/cricketindiaacademy
5. Do you have any favorite sport management resources (books, films, magazines or websites?)
Unfortunately, sports management text books are few and far between. I prefer to read of industry experts of their experiences and achievements in the field. Industry journals and blogs also provide contemporary and relevant advice and material.
Sport is a vast and diverse industry and an individual's specialty are of focus should guide their reading habits.
6. What is your most memorable moment in sports?
I have three memorable non-playing moments in sport for me are all significant for different reasons.
1. Coaching a local U14 girls community basketball team taught me a lot about the virtues and values of sport. The girls just wanted to have fun so my task was to create a learning environment based on fun drills and activities
2. As part of my role with the ICC, I worked with the Papua New Guinea (PNG) national cricket team in the ICC World Cup Qualifying Series in Malaysia in 2005. PNG won that tournament to earn promotion into the main qualification tournament for the 2007 ICC World Cup and to see the elation and emotion of that victory is one I was always remember.
3. The third is working as a Coach Educator for Cricket Australia at the first Pakistan Cricket Board Level 3 coaching course. To work with about 20 of Pakistan's eminent coaches (all of them with celebrated First Class playing careers) at the same time was a great experience. To learn of their playing experiences but also to understand their knowledge and passion for the game.
7. How do companies and potential sponsors see your sport? And how does this affect your approach towards them?
Cricket is India's major and most popular sport so therefore there are many sponsors involved and there is a massive amount of public interest. On the other side is that the massive size of the market means there is an enormous amount of competition. The cricket coaching market in particular is very saturated, especially in the main metro cities. For customers to understand our USP of providing a quality and curriculum based coaching experience is important for success.
8. What do you consider as biggest threat for your sport, and why?
Complacency is a potential threat for cricket in India. Being the major sport with such a vast interest and following the major danger is the sport becoming 'comfortable' and not continually evolving to provide a better customer and playing experience. The rapid growth of Twenty20 cricket in the past five years has been an example of cricket adapting to the needs and demands of the consumer.
The emergence and growth of interest in India of other sports also potentially provides long term competition.
9. Where do you see your sport in 10 years? Will you still be part of the organization?
In ten years time cricket in India will be in a much more heavily competitive environment. The emerging Indian economy and the growth of the middle class is providing more opportunities for children to be exposed to other sports.
The sporting industry is moving very fast and cricket especially is still evolving. Ten years ago not many people would have foreseen the massive popularity growth of Twenty20, so who knows what will happen in the next ten years!
Like what you read?

If so, please join our sports community who receive exclusive Sport Management tips, and get a FREE COPY of my eBook, "10 Management Lessons to Learn from Sports"! Just enter your name and email below: